Our pets are family. And like you would any family member, you want to make sure your pet—whether it's a cat, dog, hedgehog, ferret, iguana, or pygmy goat—is healthy, safe, and secure when you're not around. With Remote Safe, the remote services from Total Connect, we can help you keep an eye on your pets if you have to be away from home.
Remote video security let's you:
Keep an eye on sick pets
There are few things worse than when a pet gets sick right as you're about to head out the door for work. You struggle to decide if you should make an emergency visit to the vet, or if Rover will be fine once he digests the two pairs of shoes he ate yesterday. With remote video security, you can head to work and check up via live streaming video. If your pet still looks lethargic and sick throughout the day, you'll be able to make that call to vet.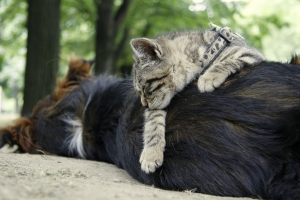 Monitor pet behavior
Have you been returning home to find your couch cushions chewed up, socks missing from the laundry basket, or mysterious stains on the carpet? Some pets can go a little a little stir crazy when their owners aren't home. With Remote Safe you can check in on your pets' behavior during the day and implement proper training for the future. You can also see if your cat really is plotting to get the dog in trouble.
See what your pets do all day
For many owners, what their pets do while they're away is a complete mystery. Did you dog really lie on the rug the whole time you were gone? Did your guinea pig roll around the house in her plastic ball? Pet owners with Remote Safe can unlock the mystery of what their pets do all day long.
Check in on the pet sitter
Using the app on your phone, you can check in at home to make sure the dog walker or pet sitter showed up on time and cared for your pets the way you'd expect. Your remote security system will let you know when they arrive, when they leave, and what they did while in your home.
Disarm pet-related alerts
Sometimes your pups get too rambunctious and jump up on doors and windows, especially when the mailman is coming down the street. Your pets can accidentally set off your security alarm. With your remote video surveillance you can check to see if there really is a threat, and if not, disarm the alarm before an emergency report is filed.
At Security Alarm, we love our pets, too. Contact one of our security solution experts today to find out how we can help you keep your furry, scaled, and prickly friends safe and secure.