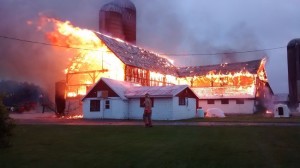 There are 20,000 agricultural related fires a year that cause $102 million dollars in direct property loss every year. For many people, farms are businesses. It's their income, their livelihood. When people open a business in an office building it goes without saying that they will have a fire alarm system. Why wouldn't they? They have put so much time and money into building the business they wouldn't risk a fire taking it all away. Just as business owners in the corporate world value fire protection and are mindful of preventative fire measures, farmers should be also be aware. They put in long hours on their farm, and they store countless dollars worth of grain, livestock, and equipment on their property. It is important for them to keep fire safety in mind on a daily basis.
Proper Farm Supply Storage
Let's face it, most barns aren't that tidy and organized. At least not my family! However, storing supplies correctly within the barn is key in the prevention of barn fires. Hay and straw, sawdust and shredded newspaper, Horse blankets, paint, fertilizer, pesticides and herbicides: these are highly flammable items that need to be stored correctly and far removed from accelerants such as gasoline and kerosene. It is also imperative that these materials remain separate from the following ignition sources as well:
Cigarettes and matches
Sparks from welding machines and machinery
Motors, heaters, electrical appliances, fence chargers, electrical fixtures, and wires
Batteries, broken glass, and chemicals which may react with each other or with water or dampness
Farm Electrical Systems and Devices

Probably the biggest contributor to barn fires is poor electrical work. Often barns are very old and therefore have electrical wiring that is also very old. In order to prevent barn fires, panel boxes should be weather proofed and located in the driest area possible. It is also important that wiring throughout the barn be encased in metal conduit in order to prevent damage.
Appliances in the barns should be UL listed and grounded. It is important that these appliances are regularly examined to ensure that the cords are not damaged or frayed. Electrical fences are yet another common source for agricultural fires. When installing electrical fences make sure that the units used are also UL listed. Those these steps sound redundant and unneeded, it's better to be safe than sorry!
Protect Your Barn From Fires
Above all else, it is vital that your farm and barns have fire protection. Ensure that there are fire extinguishers nearly everywhere around the farm (on tractors and other large equipment as well). If you want to know more about protecting your barn or outbuildings from fire, give our fire protection experts a call and let us come out and take a look around your farm and talk to you about 24 hour monitored heat and smoke detection. Truly, none of us think it will happen to our home or farm…. until it does, and then it's too late.
Contact us online or call us at 618-548-5768 and let us provide you with the best service in Southern Illinois.