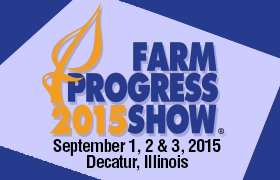 We're are excited to announce that Security Alarm will have a booth at the upcoming 2015 Farm Progress Show in Decatur, IL. The vendor booths will be open Sept 1, 2, and 3. It is our first year exhibiting at the Farm Progress Show (or any farm show for that matter), and we couldn't be more thrilled.
Protecting the Farms of Southern Illinois
Over the past few years, we have slowly begun unearthing countless security obstacles that farmers are facing, but that are often left unaddressed. We truly believe in the importance of agriculture within our region and are continuously working to create unique security solutions to meet the needs of these farmers. From monitoring temperature and water alarms within barns and outbuildings, to implementing large surveillance systems for monitoring farm operations and livestock birthing; our technicians and sales team have seen it all. And if we haven't seen it, we can guarantee you this hardworking crew can put their heads together to create a system that meets YOUR needs.
Often people's needs go unmet, because often times they are never shared. Tell us about the needs you have around your farm. What would make your life easier? Let us take your ideas and desires and make them a reality.
We hope you stop by and see the Security Alarm booth at the Farm Progress Show and let us make your work day on the farm easier. We will have free water, and Tundra sized YETI coolers to GIVE AWAY!
Hope we see ya'll there.