We all say "that will never happen to me" or if we don't say it, we think it. We never think that OUR family will be the ones who lose a family member. We never think that OUR family will be the one in the car accident. We never think that OUR family will be the one that suffers loss due to fire. We're confident that of the 350,000 American homes that went up in flames this year, not one of the families ever dreamed that it would be theirs. Of the resulting 2,500 deaths, grieving loved ones never thought it would be their son or daughter. No doubt the families which didn't have smoke detection (60%) were kicking themselves after thinking , "I wish I would have…..".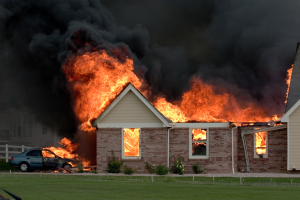 Smoke Detectors in Every Room
Security Alarm believes that burglar safety is important, but probably even more important is fire protection. We want you and your family to not only know you are safe in your beds, but we want you to actually be safe in your beds! It is important for every family to have smoke detectors placed strategically throughout the home. There should at least be a smoke detector in or outside every bedroom. If an attic is present, heat detectors should also be placed here as well. Attic fires are common and extremely dangerous. An attic fire could burn for a significant amount of time before collapsing into the rest of the home destroying everything.
Monitored Fire System
It is also important that the smoke detectors be monitored. By monitored we mean that the fire system in your home should be connected to a 24hr monitoring agency that will receive all alarm signals from your home. If you and your family are sound asleep, and a smoke detector has sounded, the monitoring agency will receive that signal and immediately send the fire department. There may be times that the siren doesn't wake you or perhaps you, your children are trapped inside, or maybe you simply are away from your home. Regardless of the scenario, having fire monitoring ensures that help will always be moments away.
For more information on how to protect your home and loved ones in the event of a fire, contact Southern Illinois security and fire experts online, at the form below, or at 618-548-5768.