It's almost here. It's almost 4th of July weekend! The time of year when nearly every American is dressed in Red, White, and Blue. If they don't go shopping for a new outfit to celebrate Independence Day, then they usually bust out an old t-shirt to sport our nation's colors. This year 43 million Americans will travel for the holiday. This is a record number of travelers, with gas prices the lowest they've been since 2005. Food wise, we will consume 150 million hot dogs on the 4th, and this week leading up to the 4th, Americans will purchase 700 million pounds of chicken, and 150 million pounds of red meat/pork. As if our food consumption wasn't impressive enough, we will also set off $675 million dollars worth of fireworks for this holiday alone. As Americans we always tend to "go all out" but on Independence Day, we definitely don't hold back.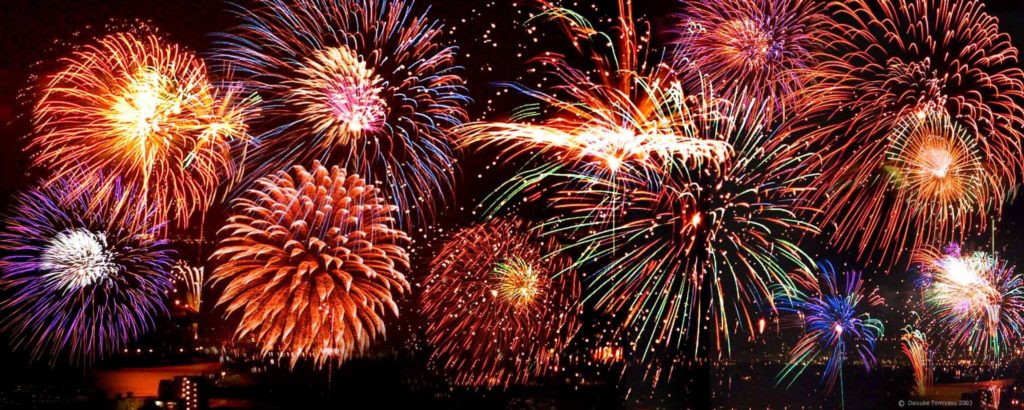 Let's take a look at some history of fireworks, and some safety tips to remember while setting them off!
The History of Fireworks:
Fireworks were invented in China sometime between 200 BC and 900 AD. Since then, fireworks have been used to mark important celebrations and festivals and today, China continues to be the the largest fireworks manufacturer and exporter in the world.
Originally, in the early days, fireworks only contained three ingredients: saltpetre, sulphur, and charcoal. We've come pretty far since then!
The global spread of fireworks began when traveler Marco Polo brought fireworks from China to Europe around the year 1925. This made fireworks famous and started the trend of invention.
In 1830, Italy invented colored fireworks. Bright colors are created when burning different metallic powders within fireworks tubes. For example, calcium produces the color orange, sodium makes yellow, and barium makes green.
Why do all fireworks sound different? Sounds in fireworks can be determined by different chemical combinations within the tubes. For example, cylindrical tubes create whistling sounds, aluminum flakes make hissing noises, and flash powder is responsible for the big, loud "booms."
Firework Safety Tips:
Obey local firework laws.
Read the labels- this may sound silly but reading the labels could save your life.
Fireworks should be set off with ADULT supervision only.
It's important to light only one at a time and then quickly back away.
Don't hold lit fireworks in your hand. For e.g. bottle rockets, they should not "take off" from an individual's hand
Set off fireworks away from buildings and vehicles. It would be unfortunate for a rogue bottle rocket to fly through a window and explode inside!
When you are setting off fireworks remember to always have a hose or fire extinguisher nearby in case a fire were to break out. It is typically hot in July with lots of dry, flammable grass!
Put up your dogs and cats (and other animals, monkeys, kangaroos or even elephants). They tend to not care for fireworks!
Because of stress-related disorders affecting so many American service men and women, pay close consideration to individuals who may be sensitive to loud noises in proximity to your fireworks show.
We want to wish you a Happy Independence Day with friends and family! Remember to stay safe and cool!