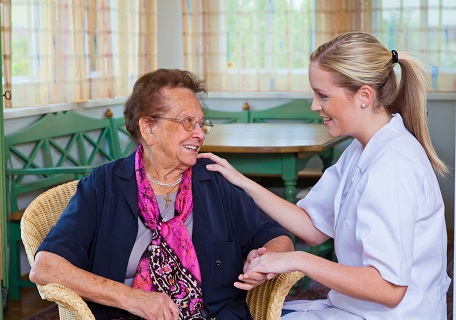 Over the past year, we have had the wonderful opportunity to handle security and life safety work at a chain of memory care facilities throughout Southern Illinois. This month we will finish up their 4th location, putting us in Sparta, Centralia, Greenville, and Bethalto, Illinois. We are always excited about the opportunity to help the aging population by providing for their security needs.
Comprehensive Life Safety System for a Memory Care Facility
The three security systems installed at these locations were a nurse call system, access control system, and a fire system. Together, these three are meeting the security needs of the management and residents.
1. Access Control Key Fobs for a Memory Care Facility
The access control system is extremely effective at keeping unauthorized individuals out and residents inside. In today's world, it is extremely vital to limit the access of people entering facilities due to the high rate of shootings and other violent acts. The card readers placed at entrances allow for either a card or fob to be swiped or a code to be entered in order to grant access.
Benefits of Access Control at a Memory Care Facility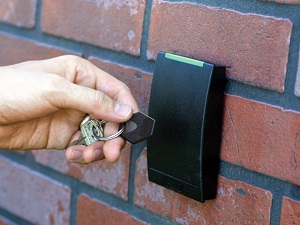 One benefit of access control is the ability to look back and see who entered at what time if there is ever a discrepancy issue that might arise. This system is also meant to eliminate the possibility of a resident slipping outside undetected. If someone were to attempt to open a door without entering the correct code, the door will sound an alert for 15 seconds to help notify those around that someone is attempting to leave without authorization. After 15 sec, the door would open and a true alarm would occur. This alerts all staff that a resident now had complete access to the outside. There are many more advantages to this type of system, but they are too many to cover here.
2. Memory Care Facility Fire System
Though a fire system is pretty straightforward, it is important to remember that a healthy, well-designed fire system is VITAL for all commercial facilities, especially facilities such as this where people are present within the structure 24/7. It is also important for fire systems to be well maintained and up to code; for that reason, we are excited to be conducting their annual fire inspections as well.
3. Nurse Call System for a Memory Care Facility