Most people associate water damage with a major event like a flood or burst pipe. The truth is water damage can happen at any time from something as simple as a malfunctioning ice maker, kitchen sink or leaking air conditioning unit. Even a small leak can cost thousands of dollars to fix, especially if the leak isn't discovered right away.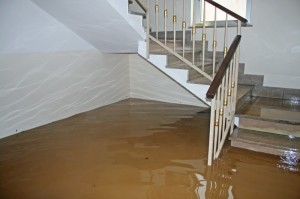 According to the Insurance Information Institute one in 55 insured homes has a claim caused by water damage or freezing each year, but there are ways you can protect your property and minimize your risk.
Sump Pumps
Many property owners install a sump pump to keep critical spaces free from occasional flooding or water damage. Sump pumps are most common in basements and crawlspaces but are also used as a safety precaution in areas like data storage and computer rooms. Usually sump pumps are installed in specially constructed sump pits. Water is pumped out of the pit and away from the building so the property stays dry.
But sump pumps need power to work correctly. A power outage during a storm or even a routine pump failure can leave property owners vulnerable to water damage.
To make sure your home or business stays dry test your pump regularly to make sure it is working correctly. For extra insurance we suggest installing a battery backup. When the power goes out the battery-powered backup will keep the pump operating.
Water Detection Systems & Alarms
For all property owners, even those with a sump pump, we recommend a water detection system or alarm, like the WaterBug line from Winland. A water alarm is an easy and affordable option in home protection. These systems instantly alert you to a power outage, or a rise in water or humidity levels so you can address the issue right away.
The systems can be installed on their own, or in conjunction with a sump pump for an added level of security, and the alarms can be connected to your existing hard-wired or wireless security systems.
We know how important the investment in your home is to you. Make sure your home is protected. For more information on water detection options, contact Security Alarm.
Want more security tips and safety information? Sign up for our newsletter or be sure to follow us on social media. Like us on Facebook!