Cold Weather Doesn't Stop Criminals
Old Man Winter does not prevent many criminals from taking advantage of people's homes during the winter months. Even during those cold snaps, securing your home is something you should always make a priority. We care about the safety and security of our community. Check out these easy tips to help ensure you and your family stay safe this winter.
Plow Your Driveway
Arrange to have your driveway plowed. Having someone you trust plowing the driveway not only eases the stress and strain of your own personal safety, but helps to discourage burglars as well. If you are absent for a long period of time, an unplowed driveway is the right kind of sign to burglars that your house is deserted.
Outside Lighting
Combat burglars by the the installation of motion sensor security lighting. A bright light, illuminating your yard, will help deter those who do not want to be seen. This simple solution makes it harder for someone to break-in unnoticed. A good security system will include automation options. Security Alarm can provide automated lighting systems to be controlled from your computer or your smartphone. Automatic timers are another option that will help to keep your home safe if you are not around.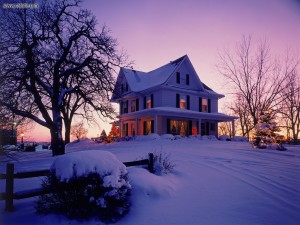 Lock the Doors and Windows
A thief will search for areas of weakness of their home. The doors and windows are areas of the home that are common weak points. Take the time and check each window and door to ensure they are locked before you leave the home. In 72% of burglaries, the thief will enter through a door, and 15% of these will be because the door was unlocked.
Be Vigilant
Be a part of a neighborhood community by getting to know your neighbors- who their regular visitors are, who owns what car etc. That way, if you spot someone acting particularly suspicious you may be more inclined to report it, or at least inform your neighbor. It can also be a comfort to know that people nearby are looking over your home while you aren't there.
Check Your Outdoor Security Equipment
If you have security lighting, motion sensors or outside cameras, it's best if you test this equipment on a regular basis. Severe weather can damage or destroy outdoor equipment, and you may not notice until it is too late!
Protect Your Home
Purchasing a security system is important at any time of year, as it is a great step towards increasing your home's overall level of security. Depending on your needs, a Security Alarm security system gives you a sense of reassurance that your home is under constant protection.
In short, even though winter is upon us, you can sit in your house and relax in peace. You'll be glad you took some extra steps with these precautions.