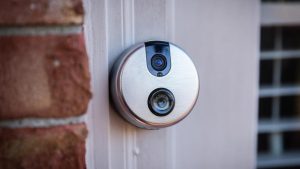 Gone are the days of old-fashioned doorbells. More and more people are finding the value in video doorbells. Not only is the technology new and intriguing to homeowners but it also provides many benefits.
Why Use a Video Doorbell Camera
Whether you choose to install a wireless video doorbell as a standalone security measure or part of a larger home security system, you'll quickly realize this small, inconspicuous device packs a lot of power in securing your home. Two of our favorite HD video doorbell brands are the Skybell Video Doorbell and the Ring Video Doorbell. Both provide exceptional visual quality and user functionality.
So why should you, a homeowner in Southern Illinois, consider installing a video doorbell in your home? Read on to learn more…
5 Benefits of Video Doorbell Cameras
1. Know who is at the door
Obviously, the biggest function and use of the video doorbell camera is to determine who is at the door.
You're probably guilty of tiptoeing to the door in order to look out the peephole and see who is on the other side. A video doorbell camera feed eliminates that need entirely, enabling you to get a clear view of who is there without even needing to get up and stop what you're doing.
2. Speak to visitors without opening door
Not only does the wireless video doorbell allow you to see who's at the door, it also provides two-way communications. This is a much-needed layer of security.
When the person is a stranger, it often is safer to determine what they need before opening the door. With the smartphone communications feature, you can address the visitor at the door whether or not you are at home.
For example, you're at work and a stranger presses the video doorbell, you can answer and send them on their way without them even knowing you aren't home.
Keeping visitors unaware of your absence from the home is highly important in minimizing the chance of theft.
3. See who came by when you were gone
If for some unknown reason you miss a video call, a photo is snapped of the visitor and the time and date are logged. This allows you to know exactly who stopped by that day and when they were there.
4. High-quality video surveillance
A video doorbell camera is also regarded as an additional camera by which to monitor your property.
The live feed of the camera can be viewed at any time from a smartphone. The daytime quality is terrific and surprisingly the night time vision on this camera is equally as astounding.
Day or night the quality of video footage will surpass your expectations.
5. Powerful component to overall home security
If you already have a home security system or other smart home features installed, a video doorbell camera is a must-have as part of your overall smart home security strategy. Essentially it's an added layer of security to secure your property.
Video doorbell cameras enable you to keep an eye on who is coming and going, check in on package deliveries, and never be interrupted again by solicitors at your door.
Installing Wireless Video Doorbells
Wireless video doorbells are exceptionally powerful tools in your home security system. Although they are small and discreet, they provide a great amount of convenience and operability.
At Security Alarm, we offer both Ring Video Doorbells and SkyBell Video Doorbells, which have been voted as two of the best video doorbell systems available. Check out video doorbell reviews and you'll quickly realize why this is a necessary component to your home security system.
Make your home safer and smarter now by installing a wireless video doorbell.