Video Surveillance Systems & CCTV

Video Surveillance Systems protect your business and much more. New technology enables you to store large quantities of video recording, capture important details, and remotely view live video surveillance at your home or business from anywhere in the world!
Benefits of Video Surveillance
Reduce Theft
Reduce Workers Comp Risks
Enhance Employee Productivity
Reduce Your Liability
Protect Your Employees
Monitor Access
Provide Evidence for Criminal Cases

High Definition Cameras Benefit Industries
Schools

Local Governments (Parks, Cities, Pools etc)
New Video Technology
Human and Vehicle Detection & Line Crossing
The latest in video analytics now provides a video surveillance solution that eliminates many false alarms. Acusense technology or more generically known as Human and Vehicle Detection, has the ability to determine whether or not what is causing movement is a Vehicle or Human. If it is a human or vehicle, an alert is created; anything else that causes motion, does not generate an alarm.
Line crossing is an even more in-depth feature that gives property owners the ability to receive an alert when a human or vehicle crosses into or exits a certain These features drastically save time, money, and headaches for businesses and other commercial entities that have the need for external surveillance.
License Plate Recognition
License plate cameras allow property owners to capture pictures of any tags that enter the premises.  These cameras can also be programmed to send an alert if the camera ever detects a vehicle entering the premises that contains a specific license plate number.  Opportunities are endless. Check out this video for a live demonstration.
FREQUENTLY ASKED QUESTIONS
How many security cameras do I need for my business?
This really depends on where you want/need to see. Some businesses want a camera at the drive-through window or at the cash register. Others want them watching the entrance or dumpster. How many cameras you need, depends on what you want to see.
How much does monitoring cost?
Monitoring starts at about $34/month
Will Security Alarm monitor a system installed by someone else?
Absolutely. Most of the time we can make other company's equipment work with our monitoring.
Is there a difference between a security camera and a surveillance camera?
No. These are interchangeable terms.
Conact Us to Learn More

Security Alarm proudly installs products by the following video and camera system providers: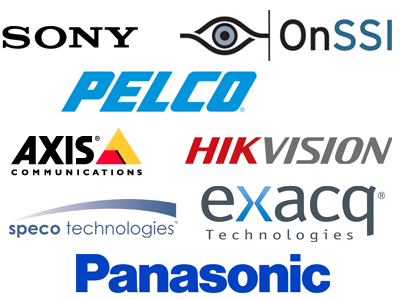 Learn more about Speco IP cameras or video cameras.