FIRE ALARM SYSTEM INSPECTIONS AND SERVICING
Seconds count when a fire breaks out. Let Security Alarm help ensure that your fire alarm system is up-to-date and working properly.
Experience Where it Counts
At Security Alarm, we have a great deal of experience inspecting and servicing the fire alarm systems of CILA homes. We can also take over your existing fire alarm system.
Our NICET-certified fire alarm technicians perform all work in accordance with the Joint Commission and other accrediting bodies.
We use a program for fire alarm inspections that can produce reports compliant with the Joint Commission, HFAP, and other regulatory agencies.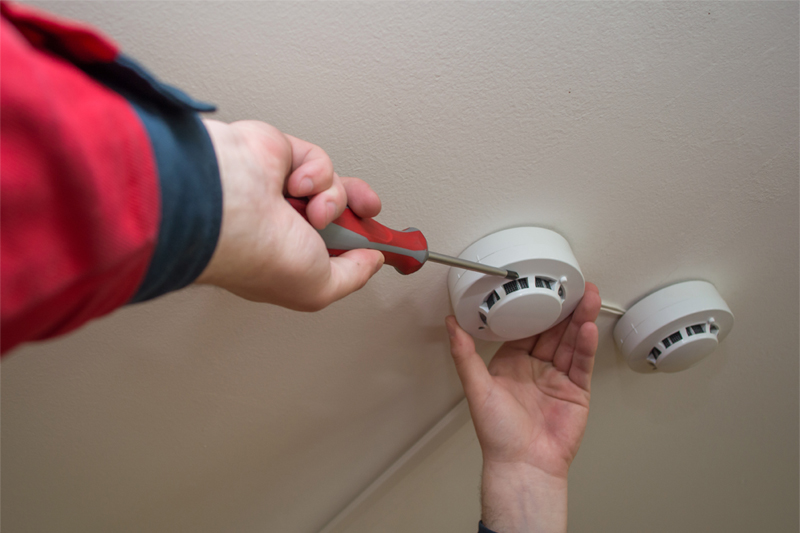 ★★★★★
"Security Alarm and Josh Dice provide Effingham Unit #40 with efficient, responsive, and professional security and fire alarm monitoring systems. We appreciate the quality service they provide in working to keep our buildings and our students safe."
– Rem Woodruff, Effingham Unit #40
Who We Are
We will honor God in everything that we do.
We will work hard and pursue excellence, and be continuous learners.
We will provide a WOW experience to all our customers.
We will provide an environment of care and personal growth for our employees.
We're a Local Business and In Your Area
We have two conveniently located offices—one in Salem and the other in Marion. Pick up the phone and call us today or stop by our offices to learn more about the fire alarm inspection, servicing, and installation services we offer for Community Integrated Living Arrangements.
Effingham, IL
Centralia, IL
Carlyle, IL
Vandalia, IL
Carterville, IL
Herrin, IL
Murphysburg, IL
West Frankfort, IL
Questions about our security for Community Integrated Living Arrangements? We can help!
A Complete Guide to Residential Fire Alarm Systems
How to Enhance School Safety and Security
Discover all there is to know about residential fire alarm systems and which one is right for your CILA home..
How to Prepare for a Visit from the Fire Marshall
Learn more about how to prepare your CILA home so that it's ready for a scheduled or unscheduled visit from the local Fire Marshall.
Case Study: Williamson County Housing Authority
Discover how the experts at Security Alarm helped a local housing authority solve several challenges through a custom-designed security system.
Fire Safety in Hospitals
Learn more about fire alarm monitoring, recent technological advancements, and why VOIP is not compatible with fire alarm systems.
Tech's Pick—Residential Security Tips from Jim
Security Alarm's very own Jim Martin provides us with his top security tips and thoughts on which feature is a must-have for home security systems.