Video surveillance systems have a critical place within electrical substations. Maintaining a facility through which electricity flows and where voltage is converted comes with more risks than your average plant. More risks require more supervision and higher security. Security Cameras can't address all issues but they can mitigate some.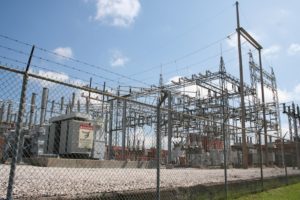 Helps to enforce safety protocols

We all know that following the rules and safety precautions is not always fun. Sometimes following protocol might add an extra hour of work to a job that could have been done more quickly. However, the fact is safety protocols are there to benefit them; to keep them safe. Therefore safety guidelines need to be enforced (even if when some give push back). Having a camera system in place would in fact deter those who might otherwise break protocol and it would apprehend those who decide to break protocol regardless.
Deters trespassers and unauthorized individuals from entering restricted areas.

Many substations are large fenced in facilities that cover too much ground for any one pair of eyes to cover at a time. This leaves greater potential for blind spots and in turn greater potential for unauthorized access to highly classified areas. Other substations are in small, remote areas with very little traffic; creating a trespassers dream location. Remote locations with little to no personnel make trespassing an easy and stress free undertaking. Installing a high definition surveillance system would allow for more visual coverage at a large plant and deter trespassers from tampering with remote substations.
Captures incidents which might hinder electricity production

The fact is facilities never operate smoothly without issues. There is always a glitch here or fault there. Some issues that are ongoing may hinder electricity flow and voltage conversion and therefore are essential to address. Surveillance systems not only work to keep facilities safe from trespassers and unauthorized personnel, but they are also incredibly beneficial within operations as well.
Enables remote viewing for off-site monitoring

One of the biggest benefits of a surveillance system is the remote viewing capability. With remote services, cameras can be viewed live, off-site at any time. This feature is invaluable, considering that some plants are a considerable distance away. Being able to log in and view remotely without making a trip saves time and money.
Thermal Cameras

Typical surveillance cameras produce an image from visible light. Thermal cameras however utilize infrared radiation to create the image. This is a picture that is typically a myriad of different colors in order to differentiate between temperatures present. Electrical plants and substations are beginning to be faced with the realization that their facilities are not as new as they once were. Aging equipment increases the probability of equipment going bad and blackouts ensuing. Many substations are investing in thermal cameras not only for security reasons but to monitor the heat of transformers as well.
If you'd like more information on how your business could benefit from video surveillance, contact us today with any questions you might have. We would love the chance to speak with you and help in any way that we could. Our office number is 618-548-5768.