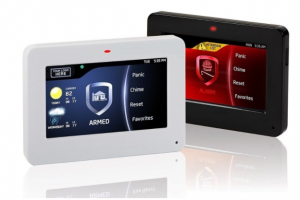 According to the NFPA, nearly 30% of the fires reported from 2015-2019 occurred within the home. The American Red Cross explains that children under the age of five are twice as likely to die in a home fire than the rest of the population, and child-playing fires are the leading cause of fire deaths among preschoolers. So it should be a no-brainer, your home needs excellent fire protection.
Residential Fire Protection
Unlike commercial facilities, homes that have fire protection don't utilize a full fledged fire alarm system. Rather, the home is outfitted with a typical burglar alarm intrusion system and then adequate fire alarm devices are added into this system in order to thoroughly protect the home and residents from the threat of fires.
But how does the system work? What makes fire protection connected to a security system better than smoke detectors from your local hardware store? And what types of fire devices should be integrated into the system based on the uniqueness of your home? Continue reading as we'll cover these points and more.
HOW DOES RESIDENTIAL FIRE PROTECTION WORK?
Many people are familiar with the battery operated, stand alone, smoke detectors that you buy from the store in bulk. The majority of people know how these work; you mount them on the ceiling and they beep when smoke is detected.
However, not as many people understand 24/7 monitored fire protection, so let's take a look at how exactly the sequence of events goes in order to understand monitored, residential fire protection more fully.
1. A FIRE PROTECTION DEVICE IS ACTIVATED.
When a fire device within the residence is activated, the siren on the system will sound. It will not simply make noise at the location of the device as a stand alone smoke detector would, but rather sounds the entire system.
There are typically two types of fire alarm devices within a home; smoke detectors that are activated when they sense enough smoke, and heat detectors that are activated when the temperature of the room reaches a dangerously concerning temperature.
2. AN ALARM SIGNAL IS SENT TO THE MONITORING CENTER
If you are set up for phone line monitoring, then a telephone line is connected to your alarm system. When a fire alarm system is tripped, as described above, the control panel sends the signal through the telephone line where it is then received by the 24-hr monitoring center. If you are set up on cellular or internet monitoring, then the signal is transmitted wirelessly instead of through a hard line.
3. AUTHORITIES ARE NOTIFIED.
Once the monitoring center receives the alarm signal, they then call the authorities (police, fire, etc) to let them know that they have received an alarm at that address.
4. THE CUSTOMER IS CALLED.
After the authorities have been notified, the monitoring center calls the location where the alarm originated to advise that they received the signal and police and fire have been dispatched.
A GUIDE TO RESIDENTIAL FIRE ALARM DEVICES
Smoke Detectors
The first type of  fire alarm device that every home MUST have is a smoke detector. Smoke detectors typically use ionization sensing technology. When the smoke in an area reaches a certain threshold, the detector senses the smoke and activates.
Where To Install
There should be one smoke detector in every bedroom, one in every hallway, and MINIMUM of one on every level. This is the lowest level of protection that we recommend.
Heat Detectors
The next type of fire alarm device that every home should be outfitted with are heat detectors. Heat detectors are tripped when the heat within the room reaches cautionary levels.
Where to Install
Heat Detectors should be located in the kitchen, laundry room, and garage. Typically they should be installed in rooms where smoke detectors might be accidentally tripped too often; for example the kitchen where food is burnt, the garage where cars create clouds of emissions etc, and any place in the home where there is a fuel burning device. Lasty, but
DISCOVER MORE ABOUT MONITORED RESIDENTIAL FIRE PROTECTION
As you consider all the ways to protect your home more fully, we strongly recommend you invest in fire protection. Whether or not you decide to choose Security Alarm as your provider is not our main concern. We hope for every single home in Central and Southern Illinois to be protected by monitored fire protection regardless of who their security provider is.
If you would like to speak with us more regarding home fire protection or any other residential security concerns that you might have, please feel free to call our office. We would be happy to help you in any way we can.