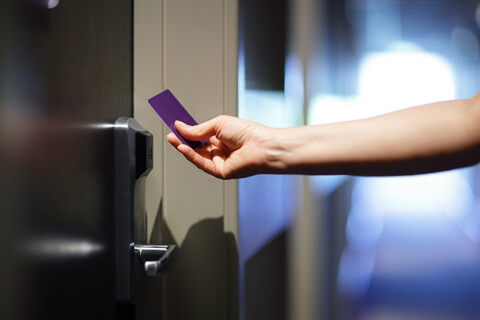 Here are some common concerns we hear:
My business is too small to have a need for an access control system.
I don't have enough employees to warrant an access control system.
These are common statements that we hear from small business owners all the time.
Benefit of Access Control With a Small Business Burglar Alarm
The reality is the need for an access control system is not necessarily determined by the physical size of your business or by the number of employees.
In fact, regardless of both points, when you have a burglar alarm equipped with access control you can reduce false alarms, eliminate the need for keys and codes, as well as improve the overall safety and security of your business, and your people.
Reduce False Alarms
Eliminate KeysAnother obvious benefit for small business owners is the elimination of keys.
It can be challenging to keep tabs on every set of keys floating around your business. You hope that they are where you believe them to be and that employees are not making copies or handing them off to unauthorized individuals.
Having an access control system eliminates the need for keys. Give trusted employees key fobs. If they quit or are fired, deactivate their card. If you aren't sure of where a fob is located then deactivate it and make a new one.
Gone are the days of losing keys and changing out locks every other month due to safety concerns. And, keep in mind, even lost keys present a risk to your business.
Gain Complete Control With Access Control For Alarm Systems
Just because someone has a key fob to the system does not mean that it will always work. Access control systems give you complete control as to when employees can enter the premises. Set schedules so that individuals have access at certain times, or temporarily deactivate a fob if you feel it necessary — the power is in your hands.
The benefits of access control systems, especially those that are also part of a burglar alarm system, provide endless possibilities and benefits for small business owners.