Motion Sensors, Glass Sensors and Door Sensors enhance the effectiveness of your security system. Sensors provide complete, whole-house protection. Modern security technology has advanced to the point where we can see alerts on our smartphones when an installed sensor is triggered.  These alerts will notify you if your security has been breached in an indoor or outdoor protected area, giving you information needed in order to respond quickly.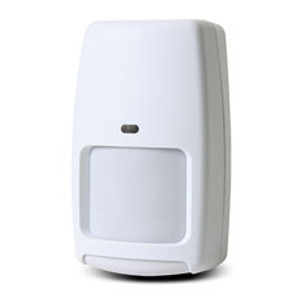 Types of Sensors
Motion Sensors
Motion sensors create an infrared map, using infrared energy. Typically, they are set at 45 degrees and their placement is in the corner of a wall. The sensors identify human body temperatures. When someone walks through a room, the sensor detects the rapid change of energy. Also, motion sensors can be set up for distance and for sensitivity.
Glass Break Detectors
Larry, who handles residential and light commercial sales at Security Alarm Corporation, believes Glass Break Detectors give the "biggest bang for the buck". It is unsurpassed in the industry. Sophisticated, technology provides performance for  "listening" for glass impact and pitch. It also detects strong vibration which a regular window sensor might not pick up on.
Window Sensors and Door Sensors
Window and Door Sensors are the center of any security system. Door and window sensors come in two pieces. One fits onto the door or window itself, while its counterpart attaches to the frame. The two pieces are positioned to be right next to each other. When the two pieces are separated, such as when the door or window is opened, they send a signal to the alarm panel.
Environmental Sensors
These sensors are ideal for kitchens and bathrooms, laundry rooms and basements. After all, if you are away from your home or on a vacation, these detectors notify in case of floods, leaks and extreme temperatures. It gives peace of mind and helps minimize risks of dangerous conditions and damages to your home and valuables.
No matter your budget, there is a security system and sensor for every lifestyle, budget and need.  We want to keep you and your family safe, secure, and notified in case of a break in, fire, or water leak. Security Alarm offers that extra peace of mind for when you're at home, sleeping, or on the go. We keep you connected to your home wherever you are.
Want to stay up to date with the latest security and safety tips for Southern Illinois? Follow Security Alarm on Facebook!