If you own or manage a gym or health complex then you likely understand the importance of a proper commercial security system.
From keeping your members safe to logging incoming and outgoing traffic, and acting fast in emergency situations, every gym should have a robust security system that includes security cameras, access control and panic buttons.
Security Cameras for Gyms
Comprehensive gym security all starts with security cameras. Whether these are located just outside the front door, or in difficult to see places inside the property, security cameras for gyms are a must-have. Where and how many cameras are utilized will largely depend on the layout of the facility.
Protecting equipment
Gym owners have thousands and thousands of dollars worth of equipment within the confines of their walls. If you own or manage a gym, you know exercise machines aren't cheap. With such valuable equipment around, it is important to have a quality surveillance system in place.
Gym security cameras keep people honest. Knowing they are being watched may cause them to think before mistreating the equipment.
Protecting customers
Surveillance systems aren't just in place to protect gym equipment, but the members that use them. Owners want to provide a safe and secure environment for their members, and security cameras deliver.
Security cameras for gyms are especially important for 24-hour facilities. Many of these gyms have minimal staff during nighttime hours. Video surveillance helps keep an extra set of eyes around the gym, making it a safer place for everyone.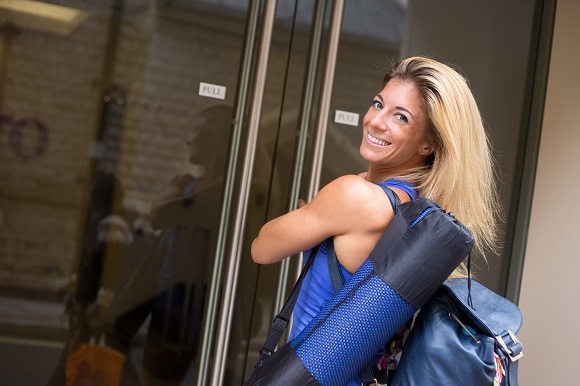 Gym Access Control
Access control systems offer a simple way to keep track of members and employees coming and going.
Managing members & employees
Gym access control works as a login system. To enter the gym, one must swipe their proximity card in order for the door to open. Each person has their own card and a number is associated with that card. When it is swiped the information is logged in the computer software.
This system allows managers to see who, when, and what door was accessed at any given time. This feature also serves as a way to view when employees clock in and out. Knowing that a manager can view their whereabouts keeps employees honest and accountable.
Access control for 24-hour gyms
Gym access control for 24-hour facilities is especially beneficial.
Oftentimes, 24-hour gyms are not fully staffed throughout the night. Access control ensures that no one other than authorized members can enter the building. This eliminates unwanted visitors to your establishment when staff is not there.
Panic Buttons for Gyms
Panic buttons are just as they sound, small buttons that are pressed in case of an emergency. When pushed, it silently alerts authorities that there is an emergency and they are dispatched immediately.
Panic buttons in bathrooms
Restrooms are an important location for a panic button. If a person feels unsafe, they may naturally run to the bathroom and lock themselves inside. Having a panic button to quickly access in the event a phone is not available is a smart idea.
<h3Panic buttons at the front desk
Another strategic location for a panic button is at the front desk. This gives employers the safety they need in case an unwanted visitor walks inside. In this situation, a panic button could be the answer to avoiding an unfortunate situation.
Panic buttons throughout the gym
Besides the bathroom and front desk, there should be several panic buttons located throughout the gym. Due to every gym being unique, the location of these devices will vary depending on the layout.
Commercial Security Systems for Gyms
The team at Security Alarm wants to provide you with comprehensive, custom gym security in Southern Illinois. Our commercial security systems for gyms are tailored to the needs of your members and your facility. We hope that you give us a chance to serve you.
Learn more about health club and gym security systems.