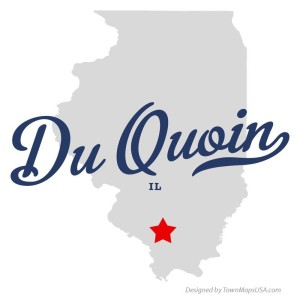 CASE STUDY: Du Quoin State Banks
It's hard to believe that in this modern technological day and age countless banks are utilizing black and white analog camera systems. What does this mean precisely? Imagine a police drama on TV where a burglar is barely visible and almost never identifiable from a pixilated, black and white video image. A bank or financial institution's security can really be compromised if the quality of video footage isn't up to par.  Du Quoin State Banks in Du Quoin, IL were no exception and here is their story.
The Security Problem:
Du Quoin State Bank had been plagued with perpetual problems revolving around their analog camera system. Not only were they troubled with the fuzzy black and white photo it produced, but there was a never ending saga involving DVR hard drive issues as well. There never seemed to be an end to their frustration of sending in their broken DVR to having to use a loaner DVR and then going back to the repaired original. The reality was the camera system was out of date, and they were in need of a brand new High Definition IP cameras system. And this is exactly what they got.
Our Security Solution:
The new camera system has features and capabilities that allow for far more applications than were ever possible before. This new IP camera system provides greater security and greater ease of operating.
Clear Image and Increased Storage
Two aspects of the new system that the bank has been very pleased with is the clear pictures and the increased storage. The IP camera system produces not only colored images, but it produces a vivid picture as well. Gone are the days of fuzzy, black and white footage. Increased memory has also allowed for less frequent removal of storage. This was a problem with the older system and they are pleased that it has been resolved.
License Plate Identification
All three bank branches have the option of drive thru banking. This means that there are countless cars coming and going daily. With this much thru traffic, the bank felt it necessary to install cameras with the capability of license plate reading. Due to strategic placement of cameras, there is not a license plate number that enters the premises without being identified.
Remote Viewing
Probably one of the most helpful features of the new system is the remote viewing. This feature allows managers/owners (or whoever is selected) to pull the cameras of all locations up in one app. Du Quoin has felt it useful in that when they are notified of a burglar alarm or if their water sensor is tripped they have the ability to pull up cameras to see what is going on and possibly stop a false alarm if they feel the need. It also brings peace of mind being able to get eyes on any location at any time.
We hope that the information in this case study has been useful in helping you think about how cameras might work for your bank or business.
Have any questions about improving the quality of your security? Contact our security solutions experts online or at 618-548-5768. We'll be happy to help and answer any questions you may have.