CASE STUDY: Sparta Community Hospital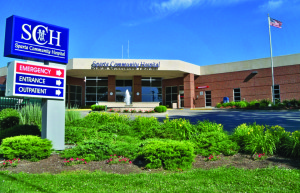 Neal, the Director of Maintenance at Sparta Community Hospital, is a name that is well known around our office. As I picked his brain in order to write this case study I joked with him that he is always calling us for something and that I hope that we are not causing him too many problems. He assured me that the high call volume comes along with managing all of our systems at all of their branches and that he is nothing but pleased with our service, and we always fix his problems. This is the response we always like to hear!
The following case study is a breakdown of the security systems we installed at Sparta Community Hospital in Sparta, IL. All of these systems play a vital role in safety and some also improve hospital operations and employee management as well. Each system is necessary and plays a necessary part in keeping their staff and patients as safe as possible.
Hospital Fire System
The first system at Sparta Hospital that we monitor and maintain is their commercial fire alarm system. There really is no great need to go into depths on explaining the benefit of a hospital fire system or how it works, as this is fairly self-explanatory. However, it is important to mention that many facilities are not happy with the slow service of some companies that provide fire alarm work. We pride ourselves in taking excellent care of this facility and addressing their fire alarm service needs in a very timely manner.
Hospital Panic Buttons
Sparta Hospital along with many other customers have found it absolutely necessary to keep multiple hospital panic buttons throughout their buildings in order to give staff the safe and secure feeling that everyone deserves. Sparta Hospital has had to use their panic system in various different scenarios not excluding unfortunate incidences with irate customers. It is handy being able to quickly press a button and reach 911 without the knowledge of those around. Knowing that the police will be at your door in less than 2 minutes is a calming knowledge.
Hospital Card Access
Not only has Sparta Hospital implemented a commercial fire alarm and hospital panic button system at their facility, but they have also completely transferred their hospital over to the use of a card access system as well. This system has enhanced their hospital in so many ways. Not only are the buildings now more secure, but this hospital keycard system has helped to improve operations as well.
Time Sheet Issues
With every employee possessing their own key fob, it allows the hospital administration to see exactly when their employees come and go from the building. This is helpful in the times when employees may either forget to punch a timesheet and need to see what time they came and left or even in unfortunate events where dishonesty in timecards is at play.
Clarification of Discrepancies
There are times within the hospital that there is a failure to remember what staff participated in which surgery. Having keycards that scan the staff as they enter into specific rooms to perform surgeries allows the hospital to keep a record of exactly who participated in which surgery, eliminating any discrepancies.
Tracking Unauthorized Access
Another benefit Sparta Hospital has had from their access control system is that the hospital administration can track who has been in unauthorized areas. For example every personnel must swipe before entering a certain area containing medication. At the end of the day that user list will show all users that entered a particular restricted area. Sparta Hospital has used this access control feature to find people roaming in places they shouldn't be a night. It allows them to have record of all incidences that may be unauthorized.
Eliminate Re-Keying and Lost Keys
Probably one of the greatest advantages of a hospital card access system for large organizations is that it eliminates the issue of having to re-key locks when employees leave and it also eliminates the loss of keys. Sparta Hospital found that when employees were leaving or switching to a new branch, keys often didn't get returned. This in turn led to lost keys and in some cases unnecessary re-keying of doors, which can be quite expensive. With keycard access they are now able to simply deactivate old users with the click of a button, making their key fobs inactive and automatically revoking access.
Learn More About Hospital Security Systems
Many of the safety and security issues at this hospital have been resolved with the access control system, fire system, and panic button systems we installed and going keyless has revolutionized how their facilities department manages people coming and going from their various hospital locations. Sparta Community Hospital is now more secure and more efficient. Contact us online to get a quote for what it would take to take the safety and security of your Illinois hospital to the next level.