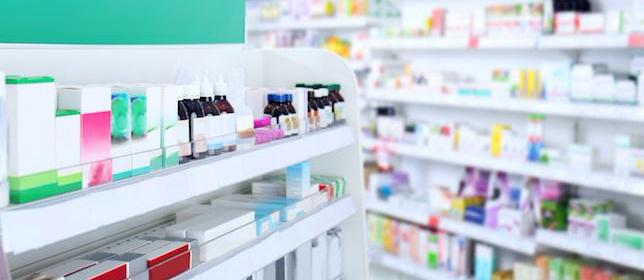 Security Alarm has provided trusted security options for Bandy's Pharmacies' main location for many years. The Salem, IL pharmacy has grown considerably over the years, and they have opened three additional pharmacies that all needed reliable security.
With their expanding business and multiple locations, Bandy's Pharmacies turned to Security Alarm to help meet their security needs. We have been happy to provide them with safety options at each of their pharmacy locations. Their customers are offered a secure area to purchase medication and their employees are provided a safe working environment because of our security cameras and alarms.
Comprehensive Security System Installation For Bandy's Pharmacies

Pharmacies contain volumes of high-dollar inventory, including controlled substances and prescription drugs. Many pharmacies have a history of theft due to the sought-after nature of their products. Bandy's Pharmacies knew that they needed every location to be fully equipped with a robust burglar alarm system that could fully protect their windows, doors, entryways, and interior.
Understanding the vulnerability associated with owning and operating a multi-location pharmacy, we recognized that the Bandy family was a perfect candidate for our Business Remote Safe Services. This is an app that would allow them to control all of their stores from one phone.
The app gives the owners the chance to monitor their store from a remote location, check the alarm system and cameras, and monitor the employees. Through our Business Remote Safe Service, Bandy's was up to par with modern technology that left them safer and more secure.

Overcoming Pharmacy Security Challenges
When we worked with Bandy's Pharmacies, we addressed the specific security concerns that they were facing.
The app allowed the pharmacy owners to:
Determine who was arming and disarming their security system
What time the system was being armed and disarmed
Remote arming and disarming of the system from their phones
Through the app, Bandy's Pharmacies were able to view all security systems, review all security logs, and set alarm reminders directly from their phones. This system gave them the control they needed through a user-friendly, comprehensive commercial security system.
Benefits Of Security Alarm's Safety Systems
After the system was installed, Bandy's owners were then able to see which employee turned the alarm on or off, what time the alarm system was armed and disabled, and even set alarm notifications. Employers were able to be held accountable for the alarming or disarming of the security system.
If an employee fails to arm the system, the owners can now arm remotely from their phones. If they want, they can even use a geofencing feature to remind them to arm their systems when they leave the premises. Geofencing sets an invisible "fence" around the property. The app can detect when the phone leaves the set area and notify them to set the alarm from their phones.
The Remote Safe App keeps them in control, informed, and offers peace of mind.
Learn More About Commercial Security Solutions We Offer
Bandy's Pharmacies has been pleased with our security systems and how they work, but they also have expressed great satisfaction with our sales team, installation techs, and the ongoing service they continue to receive.
Security Alarm is thankful for the opportunity to serve Bandy's Pharmacies and countless other local businesses across Southern Illinois.
If you are interested in installing a security system in your building, or if you have questions regarding security for your business, do not hesitate to contact us today.