Technology has greatly accelerated security capabilities and made it easier than ever before for us to remotely monitor the comings and goings of the people and property we want to protect.
For instance, residential wireless security cameras were once a novelty, and now people everywhere watch their Amazon deliveries arrive with their Nest or Ring cameras. Likewise, business managers and owners using small business security systems are now leveraging similar technology to protect their businesses and employees.
Here are two scenarios- one shows the old way of handling small business security. The other shows how small businesses are now using technology to streamline security, saving time, and keeping the business safer.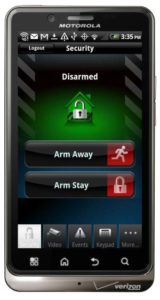 MONITOR YOUR BUSINESS ANYTIME FROM ANYWHERE
In the second scenario above, Security Alarm's Remote Safe App is what gave you the ability to monitor your alarm system off-site. It's what saved you the time and hassle of having to try and find out what happened after it happened.
With the Remote Safe App, you can customize your event notifications for access to areas with sensitive or hazardous materials, or just set notifications for general access after normal business hours. Get them by text, email, or in the app. The choice is yours.
Once you receive an alert through your Remote Safe App, you can quickly and easily pull up your security camera video app and have a high-quality view of what is going on in your business.
MANAGE EMPLOYEE ACCESS AND GET ALERTS WHEN PEOPLE COME AND GO
The Remote Safe App can also make managing your team easier. Give each of your employees a user code and receive alerts whenever they open and close for the day. This convenience means no more late visits to the office because you're unsure if someone forgot to arm the system before leaving work. You save time and address issues faster than ever.
You also have records of your team's movements in an event log that's stored for 90-days. With this feature, you're able to look back retroactively to see who opened or closed on a particular day and at what time these events occurred.
CONTROL TEMPERATURE AND LIGHTING