Scenario 1: Dinner is finished. All your TV shows for Tuesday night have been watched. You're officially ready to call it a night. Your vacation day was relaxing and definitely well earned. But time to get back to work tomorrow and play catch up. Being a manager is a busy task. Wednesday at work leaves you not only playing catch up at work but playing detective too. While you were enjoying your day off, a highly classified room at work was accessed. Now you have no idea who or when this happened and no way to find out.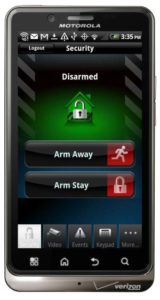 Scenario 2: Dinner is finished, you're about to watch your Tuesday evening TV Shows when a notification pops up on your phone. "Classified Documents Door Opened", the message reads. You immediately call work and have security (or the manager in charge) check to see exactly why and who has accessed this room. After gathering the information needed, you hang up and finish enjoying your day off. Wednesday morning you head into work. Upon arrival you readily address the situation involving the restricted area and your employee. Spending time playing detective is not necessary, as you already have all the information you need.
Monitor Your Business from Anywhere
Security Alarm's Remote Safe App is what allowed "you" the ability to monitor your alarm system off site. It's what saved you time and a headache in Scenario 2 vs Scenario 1. With Remote Safe, you will not only receive e-mail alerts regarding activity on the system but it will also give you the ability to arm and disarm the system from wherever you are. This means no more late visits to the office when someone forgets to arm the system before leaving work. It saves you time and helps you address issues faster than ever.
Get Alerts When Employees Come and Go
This app can also help you with employee management. Give each of your employees a user code and receive immediate alerts whenever they open and close for the day.
The possibilities for Remote Safe are endless. More and more businesses are utilizing this cellular app and finding it beneficial for many parts of day to day management.
We would love to talk with you about all the benefits Remote Safe offers. Contact us online or call to speak with our security experts at 618-548-5768.

Security Alarm provides professional security solutions for businesses throughout Southern Illinois, including Carbondale, Marion, Mount Vernon, and more!
Learn more about Remote Safe: