Fences used to be the main form of security for electrical substations. They do keep out your run of the mill trespassers that might wander into your facility. But what about monitoring the activity of employees and those who have access to the gated facility? How do you monitor their comings and goings? As they say, sometimes it's good to keep honest people honest. Access Control systems can do just that. These systems effectively monitor the general access to facilities, the entrance to high risk areas, etc.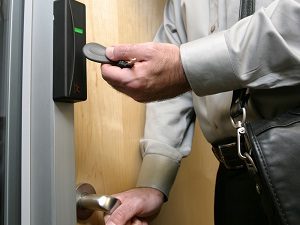 Time Sheet Issues: With every employee possessing their own key fob it allows security ( or management) to see exactly when their employees come and go from the building. This is helpful in the times when employees may either forget to punch a time sheet and need to see what time they came and left or even in unfortunate events where dishonesty in time cards is at play.
Clarification of Discrepancies: There are times within facilities that there is a failure to remember which employee handled a certain situation at a given location. For e.g. an emergency situation could arise at an electrical substation (or other facility) and access to a particular room might be needed in order to address the high risk situation. If staff were mandated to scan into certain rooms, then it could be determined who addressed the emergency situation based on scan records. This eliminates any discrepancies that might potentially arise.
Tracking unauthorized access: Another potential benefit is that this system allows security (or managers) to track who has been in unauthorized areas. At the end of the day that user list will show all users that entered, and give proof of entrance. This could be used it to find people roaming in places they shouldn't be a night. It allows facilities to have record of all incidences that may be unauthorized.
Eliminate re-keying and lost keys: Probably one of the greatest advantages of the access control system is that it eliminates the issue of having to re-key locks when employees leave and also it eliminates the loss of keys. Often, employees leave their job or switch to a new branch and never give their keys back. This in turn leads to lost keys and in some cases unnecessary re-keying of doors. With access control systems they are able to simply deactivate old users with click of a button, making old key fobs inactive and automatically revoking access.
These are simply a few of the most common uses for an access control system at an electrical substation or any commercial facility. Security Alarm prides ourselves on quality access control installation and excellent tech support.
Do you think your facility could benefit from access control solutions? Contact our expert security team online or at 618-548-5768 today.