Surveillance Cameras are what we like to think of as "passive security" versus burglar alarm's which we refer to as "active security". As we mentioned in our last blog, camera systems are necessary for facial recognition, education, convenience, etc. What they are not useful for is catching someone in the act. They are "passive". Burglar systems on the other hand are "actively" notifying the police immediately upon alarm activation. Therefore if an intruder were to break in, the siren would sound and the police would be notified. This in and of itself should be enough motive for business owners to purchase a system. However, with our Remote Safe app, there are COUNTLESS other services made available to you: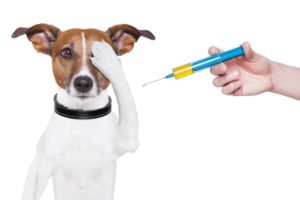 Protect sensitive material – Every business has rooms or cabinets that contain sensitive material. Whether it be files, or in the case of Veterinary Clinics, medications. Installing sensors on these doors or cabinets will enable you to receive a notification to your Remote Safe app on your phone whenever one of these doors is opened.

Monitoring temperatures – Most, if not all veterinary clinics have at least one refrigerator where vaccines and other medications are stored. These medications need to be stored at a temperature that is not too warm but not freezing either. Security Alarm offers temperature alarms for situations such as this. Temperature probes in freezers will send notifications to your phone if the temp was to fall below or rise above the necessary range. This would allow vets to address the issue faster and in turn save considerable dollar amounts.
Prevent water damage – Burglar systems also integrate with water bug alarms. We can install water bugs throughout your building or in areas that might have a tendency to floor or become damp. When a water bug is tripped will also immediately notify you via your app.
Control your system from anywhere – One of the most commonly used features of Remote Safe is the capability to arm and disarm your system remotely.  This allows for peace of mind knowing that you can verify that your system is in fact armed, and if it's not armed, it saves you time by arming it up remotely.
Burglar systems and camera systems both have their place. They are both needed for different reasons. When implemented together, they create a completely secure environment for you, your employees, and the customers at your clinic.
Have questions about which systems would offer the best solution? Contact us online or give us a call at 618-548-5768, we would love to talk with you more. 

Learn more about securing your veterinarian clinic: