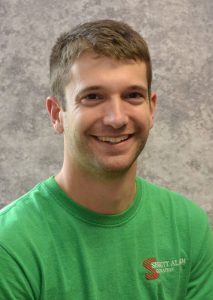 Once a month, we will post a blog featuring a Security Alarm Technician and discuss their favorite security feature.
For February, we're highlighting Daniel, who is not only a Security Alarm technician, but a local restaurant owner, and learning about his favorite commercial security system feature.
Question: What is your favorite feature that a security system can provide?
Answer: "The ability for a business owner to get notified when his alarm is not armed or disarmed by a certain time. This cuts way down on the number of times that their phone will 'ding'. No need to get notified unless there is an issue. Families can also use this feature to notify them if the bus is late to drop their kids off. If the kids never disarm the system by a certain time, they will receive a notification."
Remote Monitoring Improves Your Security System (and your life)
A traditional burglar alarm system is more robust than just motion and glass break detectors, door and window sensors and fire protection. Yes, these along with the keypad and control panel are the nuts and bolts of a security system. They keep you safe from break-ins and potential fires.
However, a security system can also improve your life in other ways.
When a security system is controlled by the Remote Safe app on your phone, it has the potential to simplify your life. One of the features of this app is the ability to receive notifications when a system is not armed or disarmed at a specific time.
Remote Safe For Commercial Security Systems
Business owners, like Daniel, find immense value in remote monitoring.
Let's say you own five stores and all are connected to one Remote Safe app on your smartphone. It's not necessarily important to get a notification every time an employee arms and disarms the system. You don't need to know if Joe disarmed the system at 8:00 am or if Cindy armed the system at 8:00 pm.
What you do care about is knowing if Joe didn't disarm the system when he was supposed to, and the same goes for Cindy. Remote Safe gives you the updates you need when you need them most.
Remote Safe For Residential Security Systems
Parents also benefit from this security system feature by knowing when their kids arrive from home from school.
For example, if the bus normally drops your kids off at 4:00 pm, you can set the Remote Safe app to notify you if your home is not disarmed by 4:05 pm. This gives your kids time to get off the bus, in the house, and to disarm the system. If they're late, you'll know instantly.
Technician Daniel's Picks For Best Security System Feature
Daniel, our tech, is a restaurant owner and father of 3. He knows how busy his life is and he appreciates the time and headache saving features that Security Systems can provide.
Whether you're a homeowner or a business owner, we'd like the chance to talk to you about how a professionally installed and monitored security system can simplify your life.
Learn more about Residential Security
Learn more about Commercial Security