We set our goals to go above and beyond and that's one reason why our technicians at Security Alarm are NICET Certified. What is NICET certification? The NFPA (National Fire Protection Association) along with the National Institute for Certification in Engineering Technologies (NICET), has developed a certified technician designation for security systems, fire protection and fire alarm systems. There are four levels of certification available, level I (trainee) through level IV (senior technician). Many federal, state, and local authorities have recognized the importance of NICET certification as a means for technicians to become more educated in their field.

Security Alarm Technicians Are NICET Certified
Why are our employees becoming NICET certified? At Security Alarm, we constantly strive to enhance our abilities by providing the best service value to our customers. We believe having NICET certified technicians ensures that we're armed with the most up-to-date education on security and fire alarm system technology, industry codes and standards.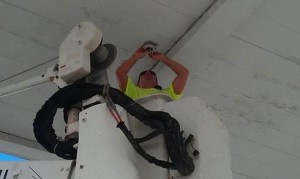 No matter how experienced our technicians happen to be, we believe we must still "test through" levels I and II cumulatively. We want our technicians to become better and better at what they do. Never settling for the "status quo". These certifications are relevant, broad-based and good for the technician and a valuable representation of Security Alarm Corporation. After all, it can never hurt to be refreshed on the fundamentals and to master them more completely.
Let's face it, providing advanced training contributes to the quality and specialization of our service. It's important to adopt this model in the security and fire alarm industry if our certifications are to have value in the eyes of architects and inspectors. We want to help shape the future of your safety and our industry, and that's why all of our Security Alarm technicians are NICET certified. We firmly believe this combined program will bridge the gap between uneven, unstructured on-the-job instruction and the professionalism we all desire.
The NFPA and NICET have provided our technicians the best available tools for professional security and fire alarm systems development. We want to provide our customers with everything they want and look for in a safety provider and that's why we have grabbed the opportunity to educate our technicians to be the best, to provide the best service, and continually grow within their field of expertise.
Stay up to date with the latest from Security Alarm Corporation? Sign up for our newsletter and follow us on Facebook, Twitter, and YouTube!