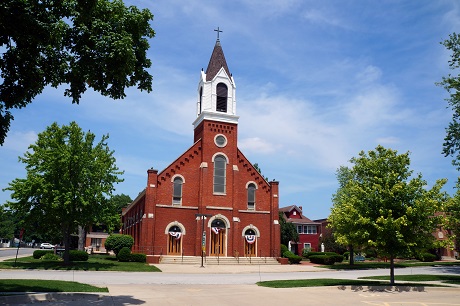 Pulling a Glock pistol from behind a church bulletin, a 27-year-old man shot at Pastor Fred Winters on March 8, 2009, in Maryville, Illinois. The first bullet hit Fred's Bible; the last one hit his heart.
We mention this story because it happened in a small community just outside of St. Louis, a small town right in our backyard. But unfortunately, the shooting at Maryville's First Baptist Church is not the only example of extreme violence in places of worship.
Since the year 2000, churches and faith-based organizations in America have faced over 1,000 "deadly force incidents." These deadly force incidents have hovered near 250 per year since 2015.
As a faith-based company and family, we want to see places of worship protected. That is why we strongly urge you to invest in the safety and security of your congregation with a panic button system and full security system for your church.
How Can Panic Buttons Improve Church Security?
Installing a panic button system is one of the first steps you can take to create a church security plan. With panic buttons installed, church leaders, staff, volunteers, and congregation members will know that help is one push of a button away.
Panic buttons offer an easy way to contact your security team and local law enforcement in case of security issues.  Having this in place can help put your congregation's mind at ease. This layer of protection serves as a common-sense way to ensure everyone feels safe while at worship. Pair a panic system with other safety features like surveillance cameras and you're in a better position to protect your church from those who mean you no harm. 
How does a panic button work?
When someone pushes a panic button, text alerts instantly go out to your church security team. The hope is that this alert could help warn your organization before a shooter has time to enter your auditorium, potentially saving the lives of those in your congregation.
In addition to alerting your security team, a panic button can warn local law enforcement officers so they are en route to your church as soon as possible.
What other protections are available?
Beyond a panic button, you want to ensure that you have a complete security system in place at your church.  Having a church security monitoring system can help your security team keep an eye on what's taking place inside and outside of the building.  By monitoring the building premises, including parking lots, doors, and windows, you can hopefully spot anyone that is behaving suspiciously.  
In the unfortunate event that someone meaning the congregation harm does enter the building, your church security cameras can pick up on the incident and provide valuable information to the authorities in order to apprehend the suspect. 
Where should we put our panic buttons?
Churches typically place panic buttons in nurseries, welcome centers, at the front desk, and in offices. Anywhere pastoral staff or church members can provide an immediate alert to the security company and the authorities is a good place for a panic button.
Invest In Your Church's Safety Today
We know that nothing is more important to a church than the safety of its congregation. If your church doesn't currently have a security solution that incorporates a panic button system, please share this letter with your trustees.
We hope and pray that your church will never need an emergency panic button, but we also hope that you'll do everything possible to protect your church with the proper monitoring solutions..
Ready to secure your place of worship? 
Contact us today by calling 618-230-2954 or filling out a form. 
Learn More About Panic Buttons