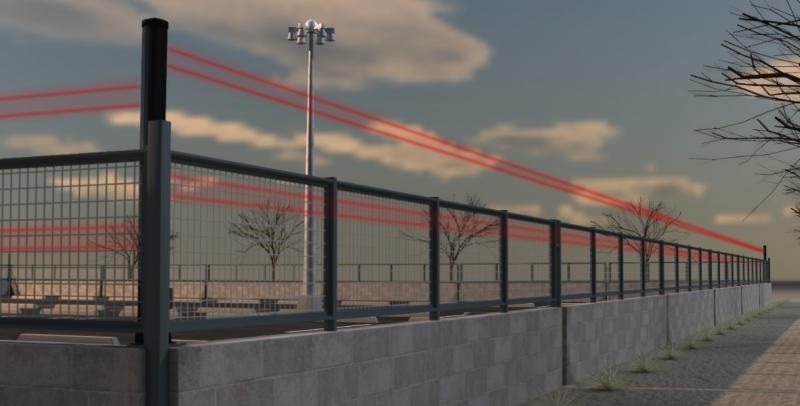 If you're hoping to protect high dollar equipment or keep people at a distance from high-security areas that contain sensitive information, you need quality perimeter security. 
Unfortunately, many companies believe a simple fence will get the job done. In most cases, a fence alone isn't enough. While they do have their place in offering security, their protection level isn't always sufficient to do the job. 
At Security Alarm Company, one of our specialties is ensuring you have the right perimeter protection system to have adequate perimeter security.
More About Perimeter Security
Perimeter security also referred to as perimeter protection, is a security solution utilizing technology to secure a property's perimeter or site from unauthorized access. 
Generally speaking, perimeter security is exactly what you'd think — security fencing and gates. However, advanced technology takes it a step further to integrate additional barriers giving you added protection and security against intrusion.
This level of protection works seamlessly with access control and video surveillance as well.
3 Types of Perimeter Security
Security Fence
Security fences are a basic security stable used to protect large areas on your property. Security fences designed for commercial perimeter protection can often withstand cutting the fence and even vehicles attempting to drive through it. 
Benefits: 
You get long term value for your initial investment

It can offer an appealing aesthetic to the property

It's an easy way to help safeguard your property and employees against unwanted guests
Infrared Light Beam Detectors
A device is mounted on one end of a fence row, and the other is mounted at the opposite end. When the devices are activated, an infrared light connects the two ends creating the invisible light beam. If someone or something walks through a light beam, the alarm is tripped, alerting authorities of the breach. 
Benefits:
With several light beams along each fence line, it drastically decreases someone's chances of making it onto your property.
New Video Motion Detection
Capturing intruders on camera is imperative for perimeter protection. The latest in video technology now allows video surveillance to only send alerts when it distinguishes that the motion is from a Human or a Vehicle. You can utilize this enhanced video technology independently of any other system or incorporate it with your other perimeter protection systems for added security.
Benefits:
e visual evidence of what's happening in the area

You will ONLY receive alerts when the motion is caused by a human or vehicle

Eliminate spending HOURS searching for events in footage; cut search times down to 2 minutes instead of 2 hours.
Watch this video for more information regarding perimeter video surveillance.
Count on Security Alarm for Perimeter Protection
If you have an outdoor location that needs to be secured, our team at Security Alarm is available to help you achieve your desired security level. 
We will send out a consultant to walk your property with you, discuss your security needs, and give you a proposal free of charge.