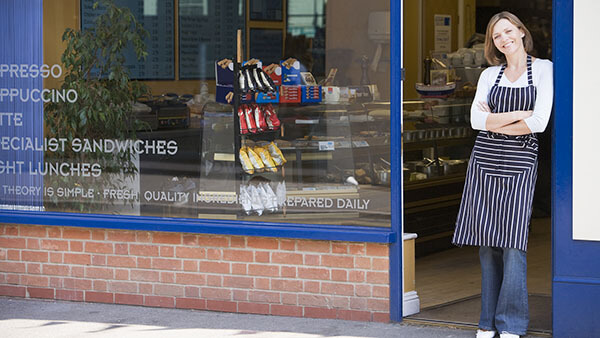 Commercial security protects the business systems and assets you work so hard to build and manage. But these products also protect the people within your business and help you keep your business operations running smoothly and efficiently.
New technologies have advanced the field of security. Business owners and managers who have not upgraded to more modern systems are always surprised by how easy-to-use and comprehensive they are now.
We'll walk you through the most common commercial security systems available today so you can make sure you've got the best system to meet your unique business needs.
Intrusion/ Fire/Panic Buttons
An intrusion or burglar alarm system with fire protection will actively protect your assets and employees. When a break-in, panic alarm, or fire occurs, the 24 hr monitoring company receives the alarm signal and notifies the emergency authorities.
Temperature & Cooler Monitoring
Many businesses, including liquor stores, grocery stores, pharmacies, convenience stores, and medical facilities, need to monitor their coolers' activity. Other businesses need temperature monitoring, which notifies them if a specific room or area rises or falls out of the ideal temperature range.
Security Alarm's intrusion and monitoring systems provide managers with alerts notifying them when their coolers have stopped working.
Access Control (and More)
Access control is a system that allows people to enter a building with a key fob instead of a key. You just wave the fob in front of a reader, and if your credentials give you access, then the doors will open.
If a disgruntled employee is terminated and they take their key fob with them, you can simply deactivate their fob, canceling their access to any facilities. No more rekeying all the locks.
Access control is a must-have for businesses. Some of the critical benefits of access control include:
No more rekeying locks because you've changed staff.
A significant reduction In false alarms.
Control over who and when people enter- you may only want certain people having access at certain times.
Know and have a record of when employees are coming in and leaving the building.
Cameras/ Video Surveillance
Cameras protect the inside and outside of businesses and property. They give you visibility into what's happening in and around buildings and provide a record to refer to if you find you have questions.
Let's dive a  little deeper into internal and exterior cameras and video surveillance.
Internal Video Surveillance
Video surveillance inside businesses and offices acts as a loss prevention tool. When cameras are present, both customers and employees are much less likely to be involved in theft or dangerous behaviors. Internal camera footage can also be used as a teaching tool for employees. Watch how the day is performing and then discuss ways to improve with employees. Many businesses are also using
camera analytics to gather information in order to be more strategic in their sales and marketing strategies. AI (artificial intelligence) can catalog information such as how many women came in the store vs how many men and what displays had the most traffic in front of them. These are just a couple of examples of how business owners are using cameras for far more than just security.
External Video Surveillance
External surveillance for businesses has recently improved with the launching of Human and Vehicle Detection technology. This technology allows business owners to receive a notification anytime a human or vehicle was detected on their premises. This feature drastically reduces false alerts due to non-important motion from leaves, animals, etc.
With this technology, you no longer need to spend hours trying to find an event that occurred during work hours or even over a weekend. You can find an event involving a person or vehicle in seconds simply by searching. Smart Search technology is allowing business owners to become even more granular in their searching and data retrieval. Now you can even search for color and make of car, men vs women, etc. Analytics such as human and vehicle detection and smart search is keeping businesses' safer than ever before.
An Integrated System: The Real Game Changer
All of the systems we've discussed can be implemented alone. However, deploying all the systems together creates a robust and comprehensive level of business security you can't afford to go without.
Here are some common ways we see the products used together:
Smartphone App With Burglar or Fire Alarm
When the burglar/fire alarm trips, you can use the smartphone app to access notifications. It gives you a detailed description of what device was activated. Having the cameras integrated allows you to see exactly who or what is going on without traveling to the office or property.
Acusense Cameras & Storage Unit
Let's say there is a storage unit out back that contains a significant amount of valuable inventory. With Acusense Cameras, you can draw an imaginary box around that building.
When a human or vehicle crosses those "lines," you'll be notified via text that activity has been detected. This technology stops you from getting too many notifications but allows you to be alerted to activity in sensitive areas.
Access Control & Burglar Alarm
The access control feature provides every employee with building access using a fob instead of a traditional key. When your employees enter the building by the proximity card reader, the burglar alarm is automatically turned off.
This technology means employees no longer have to remember their code, eliminating most false alarms due to user error.
Smart Phone App With Burglar Alarm & Key Fobs
If a person who doesn't have a fob needs entrance to the establishment, they may call you for that access. You can pull up the cameras via the smartphone app to see what's happening and decide whether or not to grant it.
Then you can unlock the door with a touch of a button while simultaneously disarming the burglar alarm system. While they're on-site, you can keep an eye on the guest as they navigate the building.
Panic Button
When a staff member is working alone and having a medical emergency or experiencing a threatening situation, all they have to do is press their silent, wireless panic button. Once pressed, authorities are immediately dispatched.
As you can imagine, this efficient notification and response system not only protects your property, but it saves lives.
Water Bug Sensor, Burglar Alarm & Cameras
Imagine this scenario: your water bug sensor connected to your burglar alarm activates and sends you a text while you are out of town. You pull up your live feed cameras and see that there is, in fact, water at your business.
You call the plumber and receive an alert from your cameras when his car pulls in. Then with the touch of a button, you give him access to your facility. Once again, this technology provided efficiencies while mitigating business loss.
Though our team does provide each of the previously mentioned systems individually, when these systems are integrated, the security they provide businesses are second to none.
Do You Need Business Security Solutions?
Security Alarm is a local security company protecting businesses across the southern and central Illinois region.
We are a family-owned and operated business that helps OTHER companies by designing and installing security systems that protect and improve their operations and save them time and money.
To see our full line of business security products, click the link below. Or contact us to speak to one of our security specialists for a free quote.