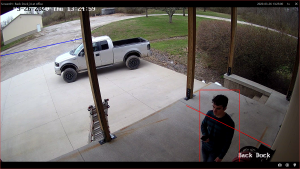 WHAT IS HUMAN AND VEHICLE DETECTION TECHNOLOGY?
This technology uses complex algorithms in order to determine whether the motion it senses is coming from: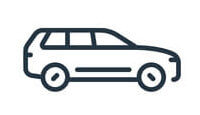 THE POWERFUL BENEFITS OF HUMAN AND VEHICLE DETECTION TECHNOLOGY
SPECIFIC AND ACCURATE MOTION DETECTION
This new advancement incamera analytics allows for an alarm to be generated if a human or vehicle enters a predetermined square or crosses a pre-drawn line. This is beneficial in two ways:
1. Reduces false alarms:
Traditional camera systems that are set to detect motion create a vast amount of false alarms in outdoor settings. With this new technology, anything that IS NOT a vehicle or human will NOT generate an alert. Now when a motion notification is received there is no question as to whether someone is truly there. It is giving owners more accurate and valuable information.
2. Customize alarm triggers:
This technology has the ability to detect whether a person or vehicle crosses a certain line going one direction versus the other. For example: An alarm could be generated when a vehicle is leaving (crossing one way) or entering (crossing the other way). It allows owners to get even more specific on which motion events create alarms.
TEXT OR EMAIL ALERTS
Not only does this technology allow for an alarm to be created when a vehicle or person is detected, but it also will send specified users a text or email notifying them that an event has occurred.
SEARCHING MADE EASY
Traditionally, all video files or clips are dumped into one large folder with no automated sorting available. With Human and Vehicle Detection technology, "human events" and "vehicle events" are their own folders and are sorted accordingly. This cuts down on HOURS of search time and is an invaluable tool.
HUMAN AND VEHICLE DETECTION IN CAMERA ANALYTICS
REAL-LIFE APPLICATIONS
OUTDOOR SALES PRODUCT PROTECTION
Any industry where sales product is kept outside could benefit from Human and Vehicle Detection Technology. For example: It is nearly impossible to prevent theft at a scrapyard. With Human and Vehicle Detection technology the owner could be alerted any time a person or vehicle entered your general premises or even more specifically an area of concern within the premises.
Car dealerships, collision centers, implement dealers, and lumber yards are all industries that have products that are hard to protect.
LOITERING AND VANDALISM PREVENTION
Another application for this technology is its ability to fight loitering and vandalism at public facilities. For example: A public pool could utilize Human and Vehicle Detection technology in order to distinguish whether the motion detected at night was a person out for a midnight swim or a non-threatening object like a deer.
Parks, cemeteries, school athletic facilities, and gated communities are all locations where Human and Vehicle Detection Technology could protect against loitering and vandalism.
VEHICLE FLEET PROTECTION
Many service providers house a large fleet of service vehicles on their premises. Having close tabs on these vehicles at all times could be invaluable for an owner or operations manager. For Example: At 3 in the morning your cameras detect that a vehicle is leaving your premises and consequently an alarm occurs notifying you of the activity.
Electric Coops, plumbers, and other service providers are just some of the industries that typically maintain a large fleet of vehicles.
CONTACT US TO GET STARTED
For more information regarding Human and Vehicle Detection technology and for ideas on how you might benefit from it, contact us here or give us a call at (618) 221-5124.