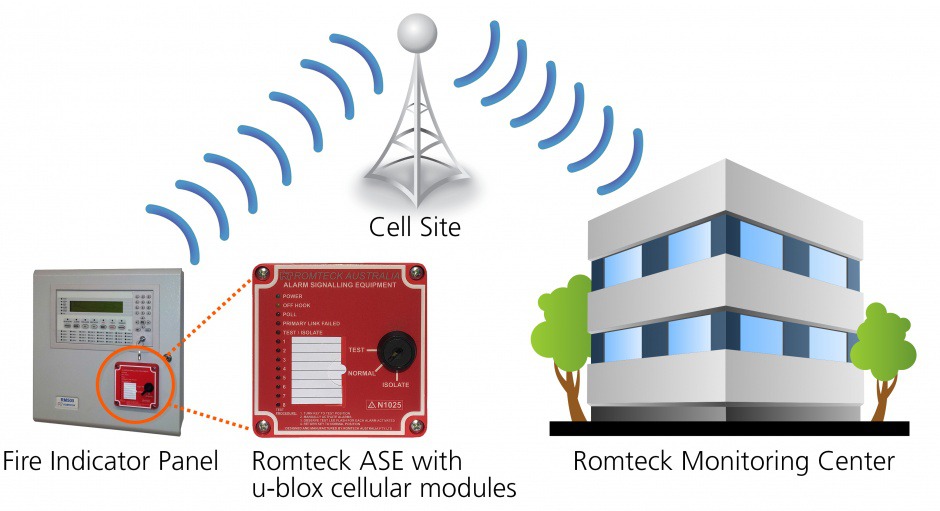 For many years, fire alarm systems in the United States have been monitored via telephone lines. 
The process works like this:
When an alarm goes off, the signal is sent through the phone line. 

A central monitoring station receives this signal. 

After the signal is received, emergency services are dispatched. 
These systems are monitored 24 hours a day, 365 days a year.
For most commercial spaces, fire alarm monitoring systems still operate using phone lines. The National Fire Protection Association (NFPA) requires all commercial fire alarm monitoring services to have at least two communication lines connected to the panel. This measure ensures that if one line is busy, the other line can get the emergency message out. 
Updated NFPA code allows businesses to have one line connected to a traditional phone cable. The other can connect to a managed, facilities-based voice network. These two lines assure that signals will still be received should one line of communication go down.
Cellular System Upgrades
As technology has advanced, companies now have more options when they install fire systems. Today, more and more fire alarm systems are being switched from phone line monitoring to cellular monitoring. That means the signal from an alarm is sent directly to the monitoring company through cell towers instead of phone lines.
Cellular monitoring has the potential to save businesses a considerable amount of money. By replacing landlines, companies can also gain peace of mind. Fire alarm signals will still be dispatched, even if no phone lines are available.
VOIP vs. POTS Line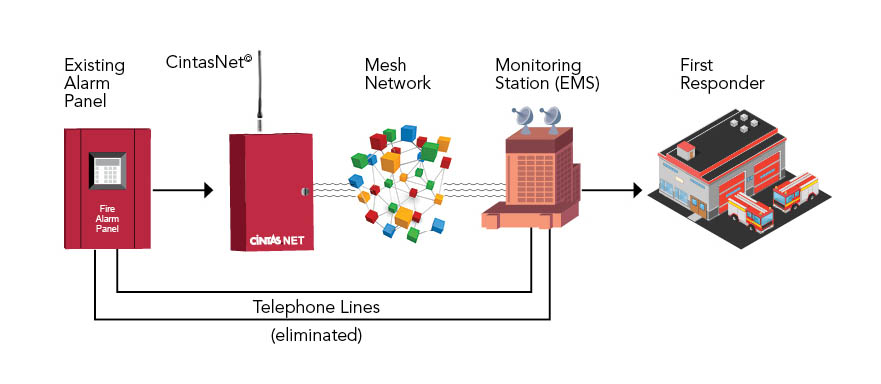 Landline-monitored systems require two plain old telephone service (POTS) lines. Nowadays, businesses are starting to switch to Voice over Internet Protocol (VoIP) lines. VoIP lines tend to be less expensive and are more reliable than the traditional POTS lines. 
However, the issue with VOIP lines is that they're not compatible with fire systems. Due to these compatibility issues, many business owners decide to keep their POTS lines. But business owners can still move away from landline monitoring. The simplest way around the POTS line issue is to install a cellular communicator.
New Technology In Commercial Fire Alarm Monitoring
While commercial fire alarm monitoring has traditionally been slow to evolve, recent advances have managed to impact the industry. The Internet of Things has made it easier for facility managers to access their systems from a central control panel. These systems can include fire, carbon monoxide, and even intruder alarm monitoring. In some cases, facility managers can even access alerts from smartphone apps.   
Improvements in cloud storage and data analytics has also allowed for continuous 24/7 monitoring and real-time system updates. Storing and tracking so much data lets facility managers make more accurate predictions about fire alarm monitoring system maintenance.
The commercial fire alarm monitoring industry will still have to move at the traditionally slow pace of fire code updates. However, modern technology has managed to make its way into commercial fire alarm systems.
Learn More About Commercial Fire Alarm Systems
Commercial buildings are all required to have up-to-date fire alarm systems. Federal, state, and local fire codes must be taken into consideration when installing and updating monitors. For most commercial spaces, fire protection includes smoke detectors, Co2 monitors, sprinklers, and audible sounding alarms. 
Installing and maintaining these systems is required, but many businesses are looking for ways to be mindful of spending. When you partner with Security Alarm you can achieve comprehensive security and save money at the same time.