Security Issues for Golf Clubs
Nearly every golf course experiences trespassers, vandalizing, and general hooligans running around on their course when they shouldn't be. The difficult conundrum with Golf Courses is that they are too big and don't have enough electrical points to adequately monitor with traditional security.
The stakes are high when it comes to golf course vandalism. One car full of teenagers can cause tens of thousands of dollars worth of damage in a matter of minutes. Repairing greens and tee-boxes is a huge undertaking that takes time and may disrupt play for several weeks.
Where Golf Course Security Cameras Come up Short
Traditional video surveillance cameras could be placed at strategic locations where there is power, but the issue is that problem areas rarely remain the same. For a month it may be a vandalizing issue on hole 9. However, it wouldn't be a good idea to mount a permanent camera there because next month the issue may be on hole 17.
Golf Course Security Remains a Challenge
Due to a compilation of various issues it simply comes down to the fact that golf courses are challenging to keep an eye on. Security Alarm understands this plight and has worked to solve this issue for golf courses and other businesses in their shoes by providing a new type of security system called Videofied.
Wireless Video Monitoring
Videofied is an outdoor portable security system. Security Alarm provides you with a base video unit, a motion detector, and a very small keypad, which are all completely weather-proof. The wireless system has a battery life of roughly 2 to 4 years. The motion detector can be mounted wherever you like; on a pole, shed, trailer, tree, etc.
When the Videofied system is armed and the motion detector detects movement, it snaps a quick video of the intruder. This footage is immediately sent to a monitoring agency and they decide whether an animal, tree branch, or person has tripped the alarm.
If the monitoring agency detects a real intruder on the footage, authorities will be notified and dispatched in hopes of apprehending the trespasser.
Portable Security You Can Install Anywhere
Why is the Videofied security camera system so beneficial for golf courses? There are a few simple answers to this question. First, problem areas change. There isn't always going to be one "hot spot," especially for sprawling golf courses that extend through neighborhoods.
Videofied Security Cameras Can Be Moved Quite Easily
One month, it could be the driving range, and the next month, it might be a green or a pond on a particular hole. Therefore it makes logical sense to have a portable security system. Can you see the benefit of being able to easily move security cameras around the course? A few cameras may find permanent homes in specific locations, while other Videofied security cameras move around the course as needed.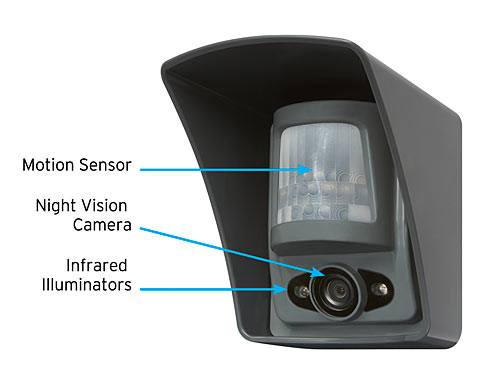 Videofied Security Cameras Are Completely Wireless
Second, the fact that it is entirely battery operated allows it to be used ANYWHERE on the golf course, even if electricity is not available. Lastly, our business customers rave about the monitored Video Verification feature that comes with this commercial security camera system.
Placing a traditional motion detector outdoors would be an issue due to debris and animals that would trigger false alarms. With the video verification mentioned above, the monitoring company only calls the authorities when a real intruder is spotted, thereby eliminating most false alarms.
Learn More about Videofied Security Cameras
If your golf club is having problems with trespassers or teenage vandals, we're confident you will find the Videofied Wireless Security Camera System incredibly useful in improving security on a Golf Course in Southern Illinois.