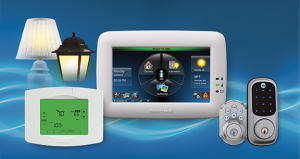 Whether we're talking about cars, houses, clothes or electronics, we all want the latest version to hit the market. And, if it's not the newest and greatest, well it at least needs to be better than the neighbors!
Most homeowners feel the same way about their home security systems. This doesn't just include the latest model or version, but state-of-the-art technology in a sleek, scalable package.
4 Ways to Upgrade Your Existing Home Security Systems
With home security technologies emerging at a rapid pace chances are your existing system may not be up with the times. However, if your home security system works and does its job properly, it's hard to justify buying a new system, right? If it's not broke, don't fix it. We get it.
Lucky for you, it's possible to upgrade your existing home security system. These four security system upgrades may be the best solution for you!
Upgrade 1: Update Old Panel Board
Many security systems can be added on to without replacing all of the nuts and bolts. In fact, simply changing out your control panel board for a newer model will give your system far greater capabilities.
For example, some older systems out there can't be controlled via smartphone. Upgrading the panel gives you the ability to control your home remotely, anytime, from anywhere.
Perhaps the best part of upgrading security control panels is that old devices still work with new, upgraded boards. Don't worry about your old devices from 18+ years ago not working with the updated system because chances are they will work just fine!
Upgrade 2: Switch to Wireless Monitoring
Upgrading to wireless monitoring is how a large majority of people choose to upgrade older systems.
Nearly all systems, even the very old ones, can be monitored wirelessly. Traditionally, alarm systems have been connected to telephone lines and when the alarm was tripped the signal was sent via the phone line.
Recent technological advancements now allow security systems (even old ones) to be monitored by sending signals via cell towers instead of phone lines. By sending signals this way it eliminates the possibility of burglars cutting phone lines before breaking and entering.
The upgrade to wireless home monitoring takes an old system and really brings it into the 21st century by improving the technology and making the system even safer than ever.
Upgrade 3: Install New Keypad
A new keypad may be all the facelift you need for your existing home security system.
Gone are the days where the only option is old clunky keypads with a few buttons. Security companies now offer modern touchscreen keypads that have many additional display features such as weather forecasts, time, date and much more.
Upgrade 4: Add Smart Home Features
By swapping out an old panel, moving to wireless monitoring, and putting up a new keypad, your system will look as new as anyone else's in the neighborhood.
These combined upgrades take a very old system and make it smart home compatible. Now all that is left to do is add door locks, smart thermostats and other smart home features to your newly updated system!
Home Security System Upgrades
Remember, just because your home security system is older doesn't mean it's not salvageable!
At Security Alarm, we're knowledgeable in the latest home security technologies. We would love the chance to explain to you the upgrades that are compatible with your system and bring it up to date.