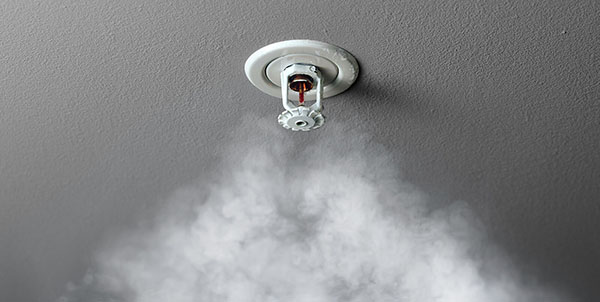 Although fire sprinkler systems are essential, they are often overlooked and little-understood. Sprinklers are ubiquitous, appearing in both strip malls and high rises. Yet they are something many of us take for granted.
Let's take a look at how businesses and organizations equip themselves against different types of fires. We'll also explore why monitoring sprinkler systems can be a crucial investment.
THE BASICS
Fire sprinkler systems are usually required for commercial structures, whether you are building or simply moving into a new venue.
In commercial properties' systems, the sprinkler heads usually feature a thermosensitive mechanical part. Examples include a glass bulb or a metal link. When it senses the temperature rise to a certain point, the part detaches or breaks to release water. In other cases, fire suppression systems are triggered by initiating devices like smoke alarms.
It's vital that you consult your local fire safety authorities. They can inform you of the fire safety requirements for sprinkler systems within your region. Don't rely solely on the information found online, since these requirements can vary significantly from state to state. It can be difficult to determine from which state the information is coming.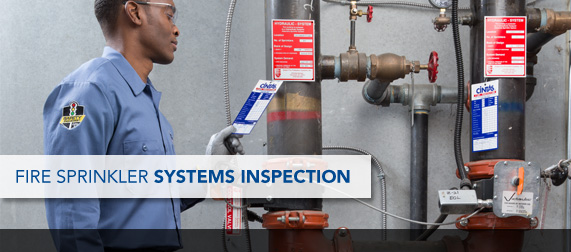 EMPLOYEE SAFETY
As a company, keeping the physical structure of your business safe is important.
However, even more important than that, is keeping your employees safe. This is why it is vital for business to have a sprinkler system. Sprinkler systems are activated when the temperature within a building gets above a certain temperature.
Will they put out the fire? Probably not. That really isn't the purpose they serve.
Sprinkler systems are meant to suppress and keep the fire down which helps it resist spreading. Sprinklers also provide extra time for the evacuation of employees. Sprinkler systems give your fire department a head start at controlling the fire while they're on their way.
The National Fire Protection Association (NFPA) indicates that there is an 87% lower civilian death rate in buildings with sprinklers.
If you don't already have a commercial sprinkler system installed, or are installing one, check the NFPA standards. The US Department of Labor Occupational Safety and Health Administration (OSHA) also instructs employers how to install a sprinkler system that meets their criteria.
MONITORED SPRINKLER SYSTEMS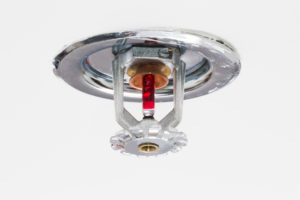 There are four primary types of sprinkler system designs: dry pipe, preaction, deluge, and wet pipe systems.
The wet pipe variety is easier to install and maintain. However, it is at risk during freezing temperatures, when water can freeze in the pipes. In places where this is a concern, dry piping systems are a popular alternative. Examples include parking garages and warehouses.
WHY IT MATTERS
Many commercial buildings have sprinkler systems and yet fail to have them monitored. If there are no employees present, they don't want to spend the money and time to install and maintain them.
What is the danger in this?
Imagine your sprinkler system is tripped. It begins spraying water in your IT room (or any other room with valuable equipment or merchandise). If your sprinkler system is not monitored, you may not discover that it has been activated until the next morning.
At this point, it may be too late to salvage due to extensive water damage. However, with a monitored system instant notifications are sent, giving management a chance to act quickly and save what they can.
Once again, we recommend you check with the fire safety authorities in your area. They'll help you determine what the requirements are for the monitoring of your sprinkler system. They can also determine how regularly inspections are required. There are countless stipulations and guidelines based on the region where you live.
SPRINKLER SYSTEM MONITORING WITH SECURITY ALARM
Questions concerning commercial fire equipment and safety? Contact us online or call our office at (618) 230-2954. Security Alarm provides monitoring for sprinkler systems to help you protect life, safety, and property.
In addition to fire alarm installation, we provide regular maintenance and reliable fire UL FM monitoring across Southern Illinois.
Understanding and staying current on local fire codes is an ongoing, comprehensive task. Our design team and NICET Certified technicians are committed to knowing and understanding them. We live and work in your area. We have developed relationships with trusted local authorities who inspect commercial fire alarm systems.
Another local company, L&K Fire, provides both service and installation for sprinkler systems. They're one of the best sprinkler companies in Southern Illinois. We're both available to help you meet your fire safety needs.
Because we're your neighbors, we're committed to providing your company or organization fast, affordable service.
In addition to over 60 combined years of fire technician experience, we offer high quality customer care. Our customer service extends the office staff you speak with to the technicians who install and maintain your systems.
Contact Us For More Information About Commercial Fire Sprinkler Systems