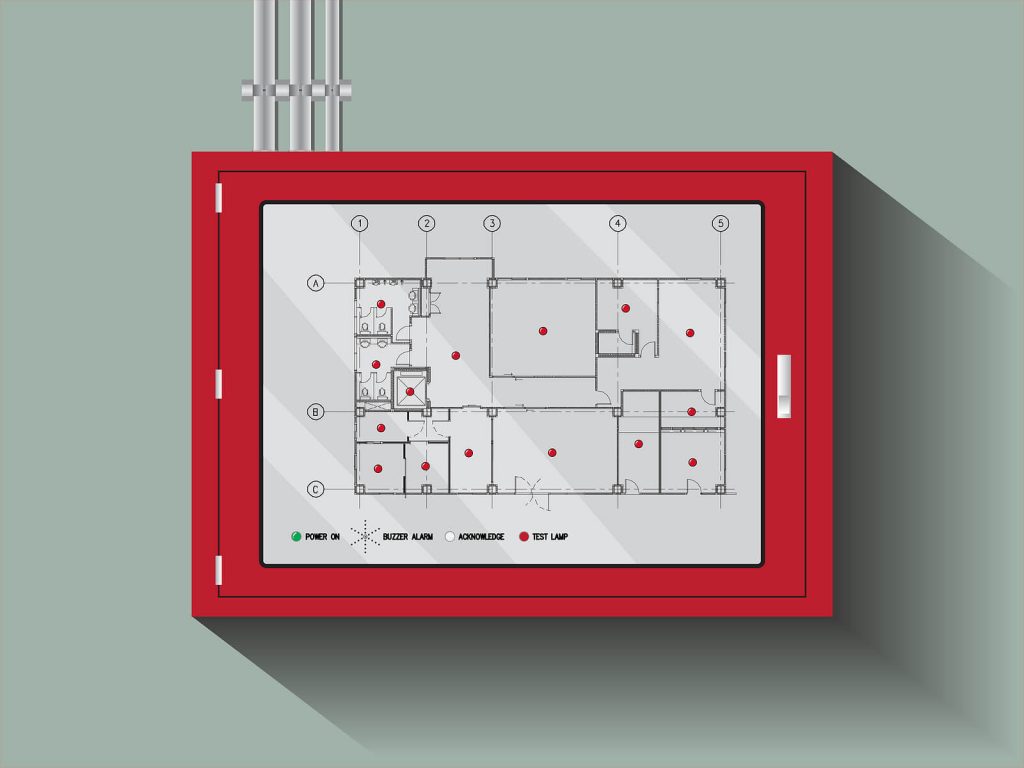 Fire protection is a crucial component of business security. At some point in the life of your commercial fire alarm system, you'll face a decision: should you maintain the status quo? Or is it time to level up to something more contemporary, with up-to-date features?
If you're a building manager or business owner and you're considering a commercial fire alarm system upgrade, we've put together a guide to help you through the different options and factors to consider.
PHONE LINE VS. CELLULAR MONITORING SERVICE
For decades, fire alarm monitoring took place via phone lines. If the system installed in your building currently uses phone line monitoring, it may be time to upgrade your fire alarm system.
Why?
This way, signals can be used to dispatch emergency services using cell towers instead of landlines, which provides cost savings to businesses. It also offers the confidence that emergency services and fire departments can still be notified even if landlines are down.
IS IT TIME TO REPLACE YOUR DETECTORS?
You may have heard that manufacturers recommend that smoke detectors be replaced every 10 years. There are other things you should do to ensure fire safety for your worksite, your employees, and your clients.
First of all, if smoke detectors get out of sensitivity range they must be replaced (be aware that their sensitivity should be tested every other year). Next, heat detectors may need to be replaced every 10 years.
KNOW WHICH TYPE OF SYSTEM DESIGN YOU HAVE
If your business has a Zoned system, instead of an intelligent Addressable one, it may need to be upgraded for safety, protection, and code compliance. You might be wondering how you know whether you have a Zoned or Addressable system.
A simple way to know which type of alarm system you have is this: if your fire alarm is tripped and you only know the general area that the tripped device is in, instead of which exact device, then you have an older Zoned system.
Believe it or not, there is an even simpler way to know. It may sound too easy, but you really can look at your system and get a sense of how old it is. As a general rule of thumb, if your panel looks old, then it probably is.
Having an older or outdated system can be a problem because electronics can easily become obsolete or too out-of-date to be of much use. There is also the ordinary wear and tear that can come with the years.
CODE COMPLIANCE
Meeting code requirements is a fairly standard reason that many businesses and commercial entities upgrade their fire alarm systems. If the building that you occupy has changed use or a change in occupant capacity, you must often make adjustments to comply with the fire code.
Additionally, even small renovations can necessitate a change in your fire alarm systems, depending on applicable state and federal regulations. This can be true whether you're dealing with elective or cosmetic changes, routine or necessary changes, as well as repairs following an accident or force majeure event, such as a storm or flood.
IF YOU NEED AN UPGRADE, DON'T PUT IT OFF!
While commercial fire alarm system upgrades may seem expensive and time-consuming now, the fact is, it can be much costlier to procrastinate.
Problems that come with aging systems can include the inconvenience and hassle of false alarms, as well as piling maintenance costs. If you need a replacement part for an older or obsolete system, waiting for it to come in and be installed can take a while. In the meantime, you may be forced to limit your building occupancy or engage a fire watch until your system is operational again.
In the end, if you really want to protect your business, fire alarm systems that use up-to-date technology and notification procedures are the most effective way to do it.
TRUST IN SECURITY ALARM FOR YOUR COMMERCIAL FIRE ALARM SYSTEM UPGRADE
If you are looking for a cellular system or other fire alarm system upgrade for your business or organization, Security Alarm will work with you to develop a solution in collaboration with our design team and NICET Certified technicians.
We provide Addressable systems, installation, and maintenance, along with 24-hour fire alarm monitoring and fast service. Not only that, but we offer knowledgeable customer care that comes from decades of experience and trusted relationships with local authorities to make sure that you're completely taken care of.
Choose from a range of brand-name fire alarm manufacturers and we'll customize your fire alarm system to make sure your business is as well-protected as possible for your employees, clients, and visitors.
Want to know more, or are you ready to get started with your commercial fire alarm system upgrade?