Things have changed since the days when you could leave your home unlocked while you were away. Our job is to be the "police" right on your farm. We provide security systems specifically designed for our agricultural community; both reliable and affordable.
Secure Your Shop & Outbuildings from Intruders
Thieves seem to look for small mechanical devices such as air compressors, generators, or welding equipment, all of which can be sold quickly. With the high price of scrap metal and copper, a farmer's shop is highly vulnerable for theft. Such things as fencing wire, electrical wire, tools, and four-wheelers are also a prime target, even in broad daylight. Don't forget, your diesel fuel tanks are also vulnerable!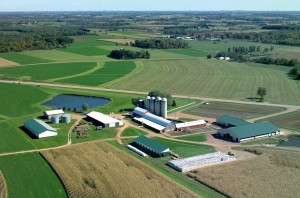 Farm Tips for added Security to Your Shop & Outbuildings
Purchasing security cameras or alarm systems, for both outdoors and indoors, deter thieves. Securing your farm with cameras will ensure only those authorized will have access to the farm and the shop. For those intruders who look past the cameras, the surveillance footage can capture intruders in the act. With an ip-based surveillance system, farm owners can monitor their property remotely. Footage can be stored digitally and easily searched in cases requiring visual evidence.
Security Systems Save on Insurance
Secured protection also saves you money! Check with your insurance agent regarding coverage discounts, if opting to add a security system. You might be surprised at the tremendous savings security provides.
Assess Your Farm
Have a look around your property and identify the vulnerable areas you'd like to protect. We have a wide range of absolutely top-quality wireless and hardwired CCTV equipment. Perfect for the farm and the family farm business which has been passed on from generation to generation.
FREE Evaluation & Consultation
Security Alarm Corporation offers free consultations for our Southern Illinois farmers and we service a wide variety of areas including, Mt. Vernon, Effingham, Strasburg, Stewardson, Carbondale, Marion, Woodlawn, Flora, Robinson, Carterville, Salem, Centralia, Vandalia, Greenville, Carlyle, Mattoon…just to name a few. Our easy-going, expert staff, can help you determine the best security solution for your farm and property. We believe in our local agricultural community and pride ourselves on having a unique understanding of our farm's most sensitive, high-risk areas in terms of security.
The harvest rush is upon us! Contact Security Alarm as the season winds down and let us help you protect the heart of Southern Illinois.